Berkeley Travel Attends Christmas Party at the Embassy of Japan and Three Reasons to visit Japan in Winter
A rather unusual destination for New Year is Japan. The country of the Rising Sun is among the first ones in the world to welcome the New Year, and has a range of unique traditions to make the New Year celebration really special.
Last week, Berkeley Travel had the privilege to attend a Christmas party chaired by His Excellency the Ambassador Extraordinary and Plenipotentiary Mr Koji Tsuruoka. It was a wonderful evening celebrating Britain's and Japan's relationships and friendships. The two countries share a lot in common: appreciation of design and beauty, culture, and respect of nature.
Did you know that now three London parks have been donated and grow authentic cherry tree or sakura, gifted from Japan? If you can't wait until April to experience hanami or cherry blossom viewings in London, you can travel to Japan and experience winter magic right now. With a number of direct flights available from London to Tokyo, operated by British Airways and Japan Airlines, your memorable trip can start very soon.
In fact, here are at least three reasons to visit Japan in winter.
1. Special celebration of the New Year in Japanese Style
Zojojji Temple, Tokyo is a great place to feel the New Year rush and to send prayers for a successful year to the Japanese gods. With the countdown to midnight approaching, the ancient bell acknowledges the arrival of the New Year and the happy crowd gets into the festive buzz. Even if you are not Buddhist, you are also allowed to get an omikaji, a little prediction on paper strips and buy protective amulets called omamori. The fireworks are exceptional, but if you want to enjoy watching them in a less crowded place, then the port of Yokohama is the best place. Most people stay awake and stroll around countless street vendors offering the best street food, which look beautiful and taste really good, and traditional gifts, such as wooden chopsticks and beautiful home decorations made from bamboo and plum tree, a special rice cake crowned with a yuzu, authentic Japanese citrus, to name but a few. Many visitors choose to stay awake to welcome the first sunrise, which in 2019 was seen at 6.50 a.m.
2. Snow Monkeys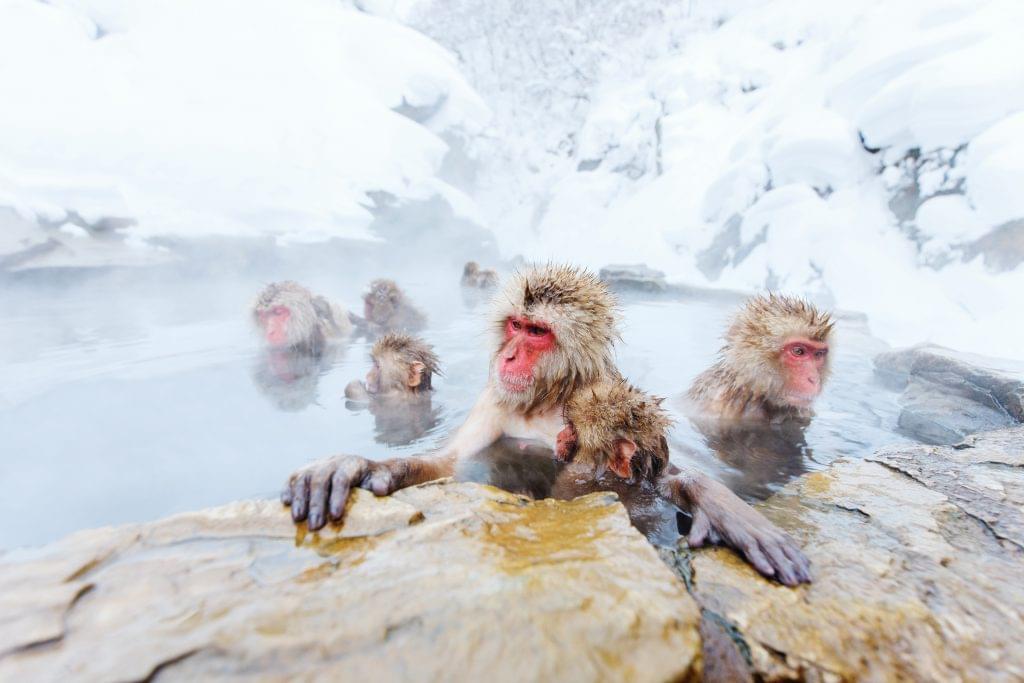 A truly unique experience is to view the famous Japanese monkeys taking a bath in hot springs in Jigokudani, a hidden hot spring resort in the Northern Nagano prefecture. These monkeys are completely wild creatures who seem to appreciate the comfort of hot springs as much as humans would. Winter is the best season to see bathing monkeys, as visitors can get to see a lot of monkeys and are guaranteed to take amazing one-meter distance shots of funny faces of primates enjoying relaxing time in the natural under snow spa. Humans too can enjoy relaxing time in a spa or onsen, separate from monkeys of course, choosing from really ancient wooden cabins. Local communities run some of the most luxurious modern style onsens. To reach Jigokudani from Tokyo via Nagano, most people take a special monkey train.
3. Special Japanese food for New Year
Christmas pamper boxes might sound very English, but the fact is that the Japanese had their equivalent osechi ryori for centuries. Few weeks before the New Year, Japanese supermarkets start to sell colourful boxes known as jubako, with different authentic Japanese food. The tradition started in the 8th century with special religious offerings to gods to mark the New Year, and later it was taken by all layers of the Japanese society to celebrate New Year and make a wish. In fact, every food item has a special meaning: herring roe is a wish to have children, black beans symbolise health, and sardines represent fertility of land and plentiful crops in the coming year. The tradition of treating family members to delicious food and making wishes is still fully alive and most Japanese families get osechi ryori to share at their New Year dinner.
The most luxurious hotels are New Otani Hotel, Mandarin Oriental and Aman Hotel in Tokyo. For more information about booking your luxury holiday to Japan, get in touch with Berkeley Travel.